July 21, 2021
Who is Ifeanyi Ezenwaogene?
Cryptocurrency has become the future for so many, some have been able to successfully cash out big time legitimately and some have been scheming badly to make 100% profits for themselves making others suffer for their inexperience in cryptocurrency. Some of this bad person who makes personal benefits for themselves out of the pocket of other are the likes of Sir Ifeanyi Ezenwaogene.
Who is Sir Ifeanyi Ezenwaogene?
Ifeanyi Ezenwaogene is a Nigerian based cryptocurrency trader who has been in the cryptocurrency world for years and has been able to move people into trading in Bitcoin, and Altcoin and cryptocurrency at large.
The problem around this atmosphere is that, people have different opinions about issues of this sort of it turns out to be their money been collected by a fraudulent plan.
Why is Ifeanyi Ezenwaogene labeled a scammer?
Ifeanyi Ezenwaogene has been dragged out by some of his Facebook followers accusing him of scamming them off their hard-earned funds. A man named (Osaze Kelvin) on Facebook shared leaked audio of Ifeanyi Ezenwaogene where he was allegedly exposing his scamming strategy, and how he uses to Jappa from the market, leaving his investors stranded. (play the audio below).
https://web.facebook.com/1098415396/videos/538886803914803/
Some claim that he has scammed them $1,500, $2000, and more. Whereas some of his faithful followers are still backing him up as seen below.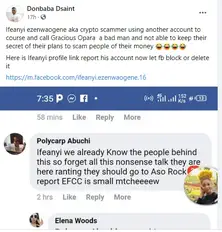 But then, one of our recognized top crypto Guru. ( Sir, Prince Toyo Theophilus) was spotted proving a point that was favoring Ifeanyi Ezenwaogene, he said.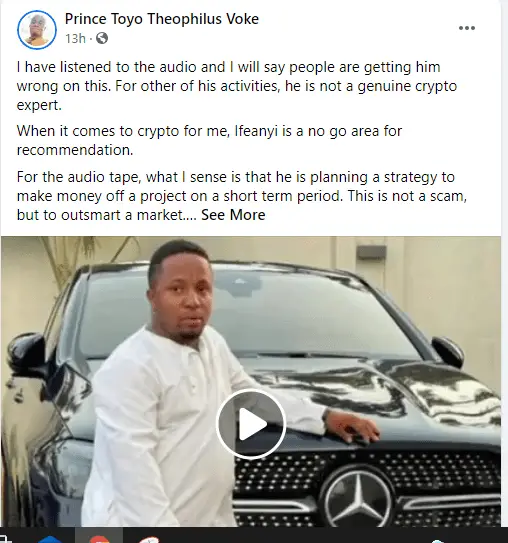 "I have listened to the audio and I will say people are getting him wrong on this. For other of his activities, he is not a genuine crypto expert. When it comes to crypto for me, Ifeanyi is a no-go area for a recommendation.
For the audiotape, what I sense is that he is planning a strategy to make money off a project in a short-term period.
This is not a scam, but to outsmart a market. What he plans to do is invest in a project private sale. Be the first to provide liquidity on most common dex or be among early liquidity providers and when the project team and the general public start locking their asset, which will drive the price up, he will now sell/dump his investment and remove his liquidity from the exchange and sell off the remainder.
The above is not a scam attempt but a way to make quick money for a new project/market. Where scam will come in, is if he asks people to fund him for such purpose and then he fails to carry out the strategy, instead runs away with the fund.
So that audio is just a short-term money-making strategy he was discussing with someone. TAKE THIS FROM ME: For a reputable project (even a fake project), his strategy will likely fail and lose hugely. People (private sales, Pre-sale, and ICO investors) will make money off his strategy before he will wake up the next day.
He still dey learn work. You can't predict the mind of other token sale investors. He should not try this, if one works out others will fail him, and the one that will fail him might be a huge investment he believed in.
Here are my Findings of Ifeanyi Ezenwaogene
After listening to the audiotape over and over again. Before I give my breakdown. I have listened to some of his live video programs on Facebook and Instagram. What he focused on is just asking people to buy a particular coin and then some earn and some will use their head to pack it. Some random source, discovered that there's a 90% probability that Ifeanyi Ezenwaogene is the creator of some of the shitcoins the shills and then rug pulls, while others he partners with other scammers of like mindset as he.
Nevertheless, some who were lured may come out profiting, it is a form of gambling.
Implication of Crypto Pump and Dump
The pump and dump scheme Ifeanyi Ezenwaogene is using isn't new, as it has been employed extensively in the equity markets for a long time. The idea behind the scam is very simple.
His team will buy a large amount of a token that is thinly traded (this aspect is very important) or create one themselves, and by doing so, the price will rise.
Then they will shill, and lure many new investors into buying the token. As the initial buying causes a rise in price, they will keep promoting the assets to cause enough new investors to buy more, generally in informal media, live streams, and paid ads.
As more people jump into buying, the price will rise further, and people will tend to get excited about the prospect of further gains.
When they have gotten enough token in their pool, and are ready to cash out their holdings at a much higher price level, and lock in some big gains. Anyone who has come to the market late in the cycle will be stuck with the asset and no more buyers, which is the end of the game.
Then they rinse and repeat for a new project, and this is a punishable offense.
Kindly tell us what you think about this, your opinion matters.